It's been over two decades since Nickelodeon's "All That" premiered, but its characters, catchphrases and cast will remain in the minds and hearts of 90s kids for-ev-er. "All That" was a show with amazing cultural staying power, but it was more than just your average sketch comedy show — that's right, we'll go ahead and say it: "All That" was downright revolutionary.
Here at Schneider's Bakery, we look fondly back on "All That" as the show that kicked off over 20 years of classic kids shows. Dan Schneider launched his Nickelodeon career as a writer and producer on "All That," and ever since he's been on a roll. It's pretty darn remarkable that today, some kids that grew up with "All That" are now adults with kids of their own watching "Henry Danger!"
Here are 6 reasons "All That" was a TV phenomenon that may just go down in history as one of the best kids' shows of all time.
The First (And Only) All-Kid Sketch Comedy
"All That" premiered with incredible force when it hit the ground running in 1994. As fans know, the show didn't stop running until over a decade later in 2005 — and impressive run for a live action kids' show. Even better, "All That" was the first (and only) sketch comedy performed entirely by kids and teens, meaning kids (hilariously) played characters of all ages every season. This was empowering to viewers, proving that kids really can do it all. Thanks to their talent and on-the-nose humor, no sketch show since has captured the imagination of so many kids or replicated "SNL" for younger generations.
A Comedian Incubator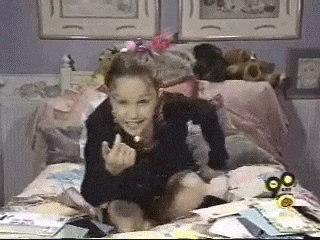 Few shows can boast as impressive alumni as "All That." The young comedians were all special in their own way, but several went on to become even bigger stars than they were back then!
Both Kenan Thompson and Taran Killam went on to perform on Saturday Night Live, while Amanda Bynes and Nick Cannon kicked off their own successful comedy careers. Jamie Lynn Spears starred in a spin-off show, "Zoey 101;" Drake Bell and Josh Peck went on to star in "Drake & Josh," and Gabriel Iglesias and Neal Brannon are both crushing the stand-up game!
Lastly, who can forget Kel Mitchell, a Nickelodeon legend you can watch to this day killing it on Dan Schneider's "Game Shakers!" If you love Kel, say "I do I do I do!"
Catchphrases for the Ages
What was it about "All That" catchphrases that got into your brain and then refused to leave? For no reason other than "All That" special sauce, 90s kids will never forget "Repairman-man-man-man-man," "Thaaaat's me," "QUIET, THIS IS A LIBRARY!!!" along with at least a dozen other recurring phrases for the ages. Do any of these ring a (Drake) bell?
Jupiter!

You upset me in ways I can't understand!

SQUAT AND ROT!

Cause I got FOUR BILLION DOLLARS!

You're the best, Superdude. Even if you are lactose intolerant.

Walla Walla Woo!

It's time to get our freak on!

I feel the hurt!

Here comes me!
Catchphrases, kind of like slogans, refuse to quit because they are simple, funny, and memorable. According to very smart research, "memorable phrases contain generic pearls of wisdom expressed with unusual combinations of words in ordinary sentences." We're not sure if that totally applies here, but either way "Welcome to the Good Burger, home of the Good Burger, can I take your order?" will be buzzing in our heads for years to come.
Authenticity to the Max
"All That" premiered at a time when TV shows were largely still segregated, and debuted with a cast diverse in talent and ethnicities. The cast was an authentic reflection Nickelodeon's hugely diverse audience, and one that really related to the kids in front of the screen. While other networks cast 20-something to play teens, or dressed their actors up like a glossy catalog models, "All That" cast real kids that acted and dressed like, well, real kids.  It had, as the Atlantic put it, a "quiet radicalism" that upended the norms for children's TV.
Spin-offs Galore!
Perhaps best of all, "All That" was such a hit that it launched at least 5 spin-offs (or more, depending on your definition of spin-off). These include other cult classics like "Kenan & Kel," "The Amanda Show," and "The Nick Cannon Show," plus "Zoey 101," "Just Jordan," "KaBlam!" and "Guys Like Us." And, of course, the American classic, "Good Burger" These spin-offs expanded the footprint of "All That," making it a total phenomenon.
All of these reasons and more go to show how the legacy of "All That" lives on to this day! We won't forget it soon, and we know diehard fans won't either.
"All That" is an American, live-action sketch comedy-variety show, which aired on Nickelodeon from 1994 to 2005, lasting ten seasons. "All That" was produced by Dan Schneider, and produced breakout stars including Kenan Thompson and Amanda Bynes. Dan Schneider is an American actor, TV and film actor, and producer.
For many, the 90s and 2000s were a magical decade made even better by the "cutting-edge" gadgetry of the time. Of course, looking back it's a little bit funny what we all thought was cool, because it's all pretty ancient by today's crazy high-tech standards.
Still, there's something special about the clunky gadgetry of the 90s and early 2000s. Is it the batteries? The pixels? The heft? Nope. We're willing to bet it's the memories. Whether we were watching Dan Schneider's "All That" circa 1996 or playing Nintendo 64, the tech of the time shaped our imaginations in these very formative years of childhood and adolescence.
Here are 6 amazing 90s gadgets we miss, even though today's tech is way more legit.
The all-mighty flip phone
Remember when phones didn't connect to the internet, take photographs, video chat, play Angry Bird, or… well… do much of anything except for flip open and closed? It was a simpler time, and we were all happier for it. Everyone knew the ultimate satisfaction of hanging up on someone by slamming their phone closed. Ahh, pure bliss.
Though when it comes down to it, whatever kind of phone you use to call your BFF is a good one, because you just know Zoey, Lola and Quinn loved their Tek-Mates as much as Carly and Sam loved their PearPhones!
The jean-pocket-ruining Nintendo Gameboy
Who knew Pokemon would regain popularity over 20 years after the franchise began? Back in the day, it was all about Nintendo Game Boy, and catching digital monsters, sans augmented reality. That's not to mention Super Mario Land, which still reigns supreme in our hearts and minds.
In the 90s, a perfect Valentine's Day would be just playing Game Boy together and not talking at all. Let's get back to those simpler times.
The too-cool-for-school Walkman
Okay, so Porkchop might not be listening to an actual Walkman, but you get the gist. Can you believe that this was literally the device that gave people the ability to walk and listen to music at the same time? Or read magazines, like Porkchop.
You can do anything with artists like The Backstreet Boys, Outkast, TLC, and The Spice Girls in your ears, and on Saturday nights you could pull off those headphones, and watch them perform on "All That." Those were the days!
TI-83 Calculator – not your mama's calculator
THIS CALCULATOR, are we right? It's a calculator, which sounds boring, but the TI 83 (or 84+, if you're lucky) was a hot, must-have item that you could load up with games to distract you through even the most tedious Algebra 2 lectures. And, it was literally a must have, as it was mandatory at a lot of schools.
Today, we can use our smartphones to calculate just about everything, like how long it's been since "All That" premiered (22 years!) or how long since Zoey's time capsule (12 years!). The point being, time sure does fly, even if Coach Kreeton didn't.
Tamagatchi was EVERYTHING
It doesn't matter how old you were, you wanted a Tamagotchi! The digital pet wasn't made up of more than a handful of pixels, sure, but that thing depended on us for life, which was awesome for some reason.
If you lost your Tamagotchi, you could just run out to the store and snag yourself a new one. Remember when Kel and Kenan had to replace Roger's pet cockatoo, Twizzles? If Twizzles was a Tamagotchi, that scene would have been a whole lot quicker, and much less funny.
What other 90s and 2000s tech do you love? Tweet @DanWarp!
---
Dan Schneider is an American actor, TV and film actor, and producer. Dan Schneider has devoted his life to behind-the-scenes production of hit shows on Nickelodeon including "All That," "The Amanda Show," "Kenan & Kel," "Drake & Josh," "Zoey 101," "iCarly," "Victorious," "Sam & Cat," "Henry Danger," and "Game Shakers."
Schneider's Bakery, Inc. is a television production company founded by Dan Schneider. Television shows produced under the Schneider's Bakery banner are noted for using the same stable of writers on all series, something that is atypical for scripted television series and especially sitcoms that are created by the same writer; staff writers working for most of Schneider's series include Andrew Hill Newman, George Doty IV and Jake Farrow among others.
Featured by Dan Schneider's Team
Schneider's Bakery
A memorable episode of Dan Schneider's "Game Shakers" depicted Double G, the superstar rapper played by Nickelodeon legend, Kel Mitchell, coming to terms (and trying to hide!) his disdain for babies. But rest assured, Mitchell [...]
Schneider's Bakery
There have been some pretty big names on basically every show Dan Schneider's worked on, from the all-star days of "All That" to the budding celebs on "Game Shakers" and "Henry Danger." But you might [...]
Schneider's Bakery
It's been over two decades since Nickelodeon's "All That" premiered, but its characters, catchphrases and cast will remain in the minds and hearts of 90s kids for-ev-er. "All That" was a show with amazing cultural [...]