Is there any more spooktacular tradition than watching some of your favorite Nickelodeon stars get freaked out in a haunted house?
On October 14, Nick aired the "Ultimate Halloween Haunted House" with a slew of stars from shows like "The Thundermans", "School of Rock", and "Knight Squad". Even Schneiderverse star Ella Anderson from Dan Schneider's "Henry Danger" made an appearance!
The list of actors included JoJo Siwa, Aidan Miner, Breanna Yde, Diego Velazquez, Addison Riecke, Ricardo Hurtado, Jade Pettyjohn and Daniella Perkins!
The Nickelodeon actors roamed through a spooky old haunted house on a quest to find five missing keys, and the only way to get out of the haunted house was for the team to find all of them… it wasn't easy!
Host Lizzy Greene ("Nicky, Ricky, Dicky, and Dawn") narrated the episode as the Nick stars screamed, jumped, and navigated the nightmarish rooms. The stars had to go through five haunted rooms to find the keys and each room had its own creepy, frights.
In one crazy, cringe-worthy scene, the stars dug through nasty food using their bare hands and sticks of celery to look for the keys! Even when the actors thought the scares were over, another spooky character or challenge would come out of nowhere! And while it was creepy for them, we've got to admit…it was pretty hilarious for us to watch!
It was definitely a treat seeing some of our stars enjoy a fun and spooky Halloween special! With an episode like this anyone is bound to get in the holiday spirit.
Check out a fun behind the scenes video of the making of the episode below!
---
Dan Schneider is an American actor, TV and film actor, and producer. Dan Schneider has devoted his life to behind-the-scenes production of hit shows on Nickelodeon including "All That," "The Amanda Show," "Kenan & Kel," "Drake & Josh," "Zoey 101," "iCarly," "Victorious," "Sam & Cat," "Henry Danger," and "Game Shakers."
Nickelodeon's "Game Shakers" certainly shook things up with the premiere of their September 16th episode! Called "The One with the Coffee Shop," the special episode is loaded with themes and references to the classic '90s show "Friends!" Each "Game Shakers" cast member had a blast portraying each of the show's six famous characters. They even included their own version of the song "Smelly Cat," a song made famous by the character Phoebe on "Friends."
Can you spot all the "Friends"-themed parodies in this episode? If you're not familiar with all the hilarious homages, we have a short list of ways the Nickelodeon episode pays tribute to the classic '90s sitcom:
1. The Opening Credits
"Friends" is well-known for its opening credits of the cast dancing in a fountain to the song "I'll Be There for You." "Game Shakers" had a freakin' awesome outro that parodied the classic credits to a t! It's so refreshing (and funny) to see all our beloved cast members act like mini versions of the Friends cast. Can you guess which "Game Shakers" cast member is impersonating which "Friends" character?
2. The Coffee Shop
For the main setting of this episode, Dan Schneider and the producers helped recreate the famous Central Perk coffee shop from Friends. On "Game Shakers," the coffee shop is called "I'll Be There for Brew," a clever reference to the "Friends" theme song! The set is covered in large coffee cups, huge couches, and a ton of characters similar to the ones seen on "Friends" like the coffee shop's manager Gunther and even Chandler's ex-girlfriend Janice who has an extremely….. shall we say….. recognizable laugh!
3. References Galore!
There are a ton of scripted lines and settings that pay homage to the classic "Friends" sitcom. Here are a few "Friends" themes and references you may have missed:
Hudson gives a great big Joey-style "How you doin?"

 
The wifi password at the cafe is "iHateRoss" which is a direct reference to the animosity Gunther has for Ross.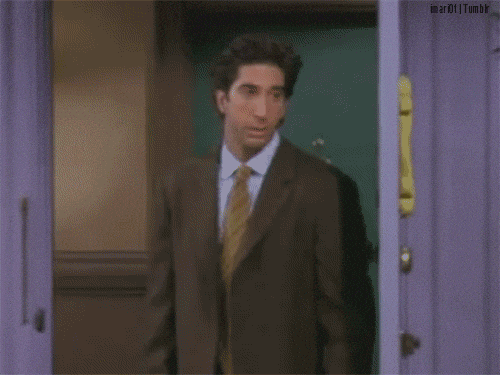 When Babe says "No one told me life was gonna be this way," Hudson claps afterwards– another cute little reference to the "Friends" theme song.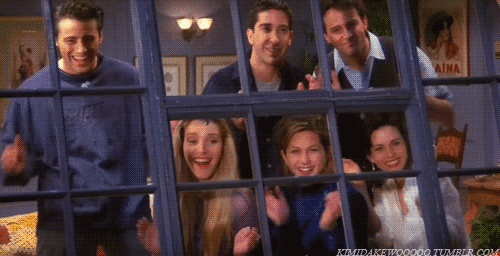 Babe and Kenzie's breakup alludes to a similar break up between Ross and Rachel on "Friends."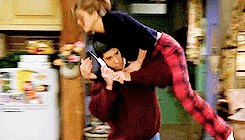 Kenzie's gets the notorious "Rachel" hairstyle.
Hudson sings some super weird Phoebe-like songs that are kinda dark (but also kinda funny)!
Bonus: Don't forget to check out the After Party episode. In real life, the "Game Shakers" cast are great friends too. But just how well do they know each other?! They participate in a friendly trivia game to find out!
Can you spot all these "Friends" themes now?! Rewatch the episode and see how many you can count! We're so excited that "Friends" has made its mark on the Schneiderverse!
"Game Shakers" is an American live-action sitcom, created by Dan Schneider, currently airing on Nickelodeon. The series stars Cree Cicchino and Madisyn Shipman as pre-teens that start a multimillion dollar gaming company and take on a rap superstar, played by Kel Mitchell, as their business partner. The series is produced by Dan Schneider, an American actor, TV and film actor, and producer.
Schneider's Bakery, Inc. is a television production company founded by Dan Schneider. Television shows produced under the Schneider's Bakery banner are noted for using the same stable of writers on all series, something that is atypical for scripted television series and especially sitcoms that are created by the same writer; staff writers working for most of Schneider's series include Andrew Hill Newman, George Doty IV and Jake Farrow among others.
Featured by Dan Schneider's Team
Schneider's Bakery
"All That" definitely lived up to its name and defined a huge part of '90s kids TV. Now, fans are rejoicing decades years later, because the cast just had a super awesome reunion on MTV's [...]
Schneider's Bakery
Valentine's Day is right around the corner! While you're busy getting a sugar high from indulging in various heart-shaped candies, we'll pull at your heartstrings with this list of our favorite couples from some of [...]
Schneider's Bakery
Ready to fall in love this Valentine's Day? Dan Schneider has some super sweet treats in store for the upcoming holiday. Fan's are gonna LOVE Nickelodeon's "Hart Attack" Weekend, with back-to-back V-Day themed episodes of [...]