Attending Comic-Con is a great way to celebrate your favorite TV shows, characters and fandoms. As always, the amazing Comic-Con cosplayers came as creative and colorful versions of their favorite characters at this past July's Comic-Con event in San Diego, CA.
This year, the Nickelodeon booth hosted panels featuring '90s Nick shows. Fans came out to show off their creative "Hey Arnold!" and "Rocco's Modern Life" outfits — it was freakin' awesome! Not only is Comic-Con super fun, but it's also a great place to get inspired for Halloween this year.
If you wanna rock your Nickelodeon pride during trick-or-treat season, we've got some ideas straight from the Schneiderverse!
1. Dynamic Duos: Drake & Josh or Carly & Sam
There are a lot of dynamic duos featured on Dan Schneider's Nickelodeon TV shows. "Drake & Josh" or Carly and Sam from "iCarly" are some great characters to dress up as with your best friend. Luckily, the costumes aren't that hard to put together! To dress like Drake, trick-or-treaters can wear a casual t-shirt with a rock n' roll graphic like a guitar. If you're going as Josh, consider wearing a baggy t-shirt with stripes or flannel. If you really want to get into character, browse through Drake & Josh's catchphrases!
As for Carly and Sam, try searching for fun and colorful items with bright graphics at your local thrift store! Or how about appearing in their matching mustache costume!?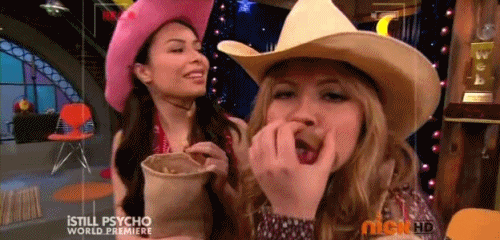 Bonus Idea: You could even dress up as "Kenan & Kel" in matching GoodBurger outfits. Grab a blue striped shirt, an apron, and a fast food hat (which you can make out of paper). Better yet, you could dress up as Kel and carry a 2-liter bottle of his beloved Orange Soda!
2. A Dancing Lobster from the Amanda Show!
A myth is that lobsters can live forever, and we bet a dancing lobster costume from "The Amanda Show" would definitely live on in everyone's memory. Putting together this mega-costume may be more challenging, but it's a great activity for a rainy day. Throw on a red jumpsuit or make a lobster claw out of papier mache. Several stores also sell red lobster mittens and headband with lobster eyes. If you're feeling really creative, craft your own costume out of felt! Check out directions for similar costume ideas online! It'll be so much fun dancing through your neighborhood with a lobster claw and a bag of candy!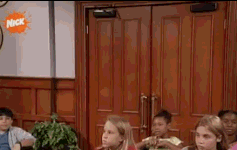 3. Be a Superhero for a Day!
Channel your inner superhero with Kid Danger and Captain Man costumes. If you're too young to trick-or-treat by yourself, it's a great idea to dress up with a   parent. You can buy some awesome Kid Danger costumes online or check out this YouTube video on how to craft your own Kid Danger outfit! Either way, these costumes will inspire you to be the good guy for a day…and maybe even share some of your Halloween candy with your siblings.
Have any other Nickelodeon costume ideas for Halloween? We hope to see pictures of all your creative Halloween outfits!
---
Dan Schneider is an American actor, TV and film actor, and producer. Dan Schneider has devoted his life to behind-the-scenes production of hit shows on Nickelodeon including "All That," "The Amanda Show," "Kenan & Kel," "Drake & Josh," "Zoey 101," "iCarly," "Victorious," "Sam & Cat," "Henry Danger," and "Game Shakers."
Follow Dan Schneider on Instagram!
Hang on to your masks "Henry Danger" fans, this is a HUGE week in the Dangerverse! A two-part "Henry Danger Live and Dangerous" special airs this Saturday and welcomes actor, singer, YouTube celebrity, and all-around MEGA-PERSONALITY Frankie Grande! Frankie's playing an evil genius by the name of— wait for it— Frankini!
In Saturday September 16th's episode (part 1 of the 2-parter), we're introduced to Frankini, a social media superstar with billions of followers. He invites Kid Danger and Captain Man to a massive party, but no one else shows up. Instead, Frankini suggests that the two superheroes become male models for his underwear line, "Frankini Bottoms". After Kid Danger and Captain Man strut their stuff, Frankini reveals that he's taken complete control of their movements with the Frankini Bottoms!
With the heroes trapped in their mind control pants, Frankini tells them his evil plan to broadcast a live stream of them doing hilarious and humiliating activities while he controls their every action. But oh wait, it gets worse — once the live stream hits 10 million viewers, Frankini is going to force Captain Man and Kid Danger to remove their masks and reveal their secret identities! What's going to happen?!
The show promises to a be a huge treat for fans who will enjoy Frankini's over-the-top personality. As an internet star, Frankini loves acrobatic pranks, digital fireworks, and is an expert choreographer. You know Frankini has some tricks up his sleeve! Speaking of sleeves… fans will also love Frankini's wild outfits. He even has his own underwear line he calls "Frankini Bottoms" that play a big role in the episode.

Grande's role was written specifically for him by the show's creator, Dan Schneider, who also wrote "Victorious" and "Sam & Cat" on which his little sister Ariana Grande starred! Viewers can also see Zoran Korach— of "Sam & Cat" fame— play Frankini's henchman, Goomer, in the special!
In a red carpet interview, Frankie said "It's a very big role. Dan created the role for me and I get to sing, dance, and fly. It was a dream come true! I really hope to work on more Nickelodeon shows and Henry Danger again in 2017!"
This live special sounds dangerous, but also pretty grande, huh?!
Catch the first episode this Saturday, September 16 and the second episode on Saturday, September 23 at 8p/7c on Nickelodeon!
---
"Henry Danger" is an American superhero TV comedy, created by Dan Schneider and Dana Olsen, currently airing on Nickelodeon. The series follows a 13-year-old boy, played by Jace Norman, who lands a job as the sidekick of a local superhero. "Henry Danger" is produced by Dan Schneider, an American actor, TV and film actor, and producer.
Schneider's Bakery, Inc. is a television production company founded by Dan Schneider. Television shows produced under the Schneider's Bakery banner are noted for using the same stable of writers on all series, something that is atypical for scripted television series and especially sitcoms that are created by the same writer; staff writers working for most of Schneider's series include Andrew Hill Newman, George Doty IV and Jake Farrow among others.
Featured by Dan Schneider's Team
Schneider's Bakery
"All That" definitely lived up to its name and defined a huge part of '90s kids TV. Now, fans are rejoicing decades years later, because the cast just had a super awesome reunion on MTV's [...]
Schneider's Bakery
Valentine's Day is right around the corner! While you're busy getting a sugar high from indulging in various heart-shaped candies, we'll pull at your heartstrings with this list of our favorite couples from some of [...]
Schneider's Bakery
HAPPY NEW YEAR!!! Okay, well, we're already halfway through January, but that's the PERFECT time to check-in on how our New Year's resolutions are going! We checked in with a few cast members from Dan [...]