In the past ten years, a lot has changed on Nickelodeon. But can you believe it's been 10 years since "iCarly" premiered?! Dan Schneider's "iCarly" ran from 2007-2012 and quickly became an audience favorite with its likeable characters, silly humor, and heartfelt storylines. No wonder it won Favorite TV Show at Nickelodeon's Kids' Choice Awards in 2009 and 2010.
There are plenty of reasons to celebrate the 10 year anniversary of this iconic TV series! Here are three reasons why we still love watching "iCarly":
iDeal Friendships
On "iCarly" the title character and her best friend, Sam, have a friendship set to rival even the most well-known TV friendships like Spongebob and Patrick or "Drake & Josh". Throughout the show, Carly often thinks Sam is a bit irresponsible, but loves her anyway. When Sam needs her, Carly is always there to comfort, feed, and give her moral advice. In the episode iChristmas, Sam admits she'd be in a detention center if it weren't for Carly's moral support and Carly admits her life would be boring without Sam. Whenever they have disagreements, they always make up with a hug. Now, that's a support system each of us could use!
In real life, the actresses who play Carly and Sam, Miranda Cosgrove and Jennette McCurdy respectively, are still good friends! In April, the two even wore matching hats at the Disney World in Tokyo and frequently hang out together in Los Angeles! This duo is ICONIC.
iConic Celebrity Guests
There were plenty of memorable celebrities who made their way onto iCarly's stage. Remember when Michelle Obama, Emma Stone, and One Direction were special guests? In iMeet the First Lady, Michelle Obama stops by to say she is proud of Carly and her friends for surprising her dad with birthday greetings while he's away in the army. Dan Schneider wrote the episode for Mrs. Obama and her Joining Forces Initiative to include a feel-good theme. On another episode, Emma Stone portrayed an iCarly superfan! The actress even said in a TV interview that iCarly was genuinely "the best show of all time". We don't blame you, Emma Stone!
The fictional iCarly series introduced fans to some interesting recipes including those infamous Spaghetti Tacos. Even The New York Times featured an article on the popularity of the new dish! After the episode of Carly's big brother Spencer cooked the tacos, thousands of moms across the country heard requests from their kids to make the recipe for dinner! But "iCarly" also inspired Sam's Fat Cakes or T-Bo's Strawberry Splat Smoothie! You can find a list of recipes to make from the show here!
There are so many reasons to love iCarly and the 10th anniversary is a great way to celebrate its impact on fans everywhere. Why do you love iCarly so much?
---
"iCarly" is an American teen sitcom which aired on Nickelodeon from 2007 to 2012, lasting seven seasons. "iCarly" was produced by Dan Schneider, and produced breakout stars including Miranda Cosgrove and Jennette McCurdy. Dan Schneider is an American actor, TV and film actor, and producer.
A memorable episode of Dan Schneider's "Game Shakers" depicted Double G, the superstar rapper played by Nickelodeon legend, Kel Mitchell, coming to terms (and trying to hide!) his disdain for babies. But rest assured, Mitchell fans! Our beloved Kel LOVES babies; has two kids, now in their teens, and we're excited to confirm that there's a third on the way!
That's right, Kel's wife Asia Lee is expecting. The two announced the good news in a goofy and romantic way — on Valentines Day (romantic) wearing Good Burger hats (goofy, but amazing).
In the Instagram post, Kel wrote: "We have a bun in the oven! Thank you @therealasialee for being the best wife to me the best friend to me and now the best mom to our blessed baby!! I love you so much!"
We got a huge kick out of the orange soda, strategically placed by Asia's baby bump, where (in theory) the new baby could get a kick out of it too.
The happy couple recently celebrated their fifth anniversary, and the new baby will be Asia Lee's first. Kel has two daughters from a previous partnership, Allure and Lyric, ages 15 and 17! We hope all three share Kel's unstoppable sense of humor. If the world is lucky, maybe the new baby will inherit mom's rapping skills, too!
Depending on which shows you watch, it's hard to imaging Kel as anything but an orange soda loving goofball or a superstar rapper, isn't it? Heck, we sometimes forget that Benji Flores, Triple G on "Game Shakers," isn't actually his son in real life! But, it makes sense that Kel makes a convincing dad on the show, considering he has some great experience in real life, and is about to get even more.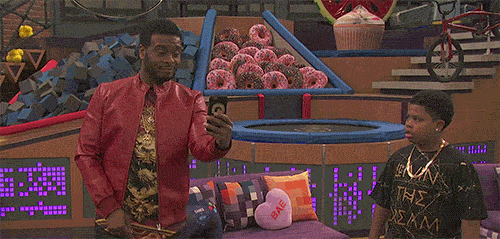 So if there's any doubt, Double G may be freaked out by babies, but Kel Mitchell almost certainly is not! Congrats and best of luck to this super talented pair!
"Game Shakers" is an American live-action sitcom, created by Dan Schneider, currently airing on Nickelodeon. The series stars Cree Cicchino and Madisyn Shipman as pre-teens that start a multimillion dollar gaming company and take on a rap superstar, played by Kel Mitchell, as their business partner. The series is produced by Dan Schneider, an American actor, TV and film actor, and producer.
Schneider's Bakery, Inc. is a television production company founded by Dan Schneider. Television shows produced under the Schneider's Bakery banner are noted for using the same stable of writers on all series, something that is atypical for scripted television series and especially sitcoms that are created by the same writer; staff writers working for most of Schneider's series include Andrew Hill Newman, George Doty IV and Jake Farrow among others.
Featured by Dan Schneider's Team
Schneider's Bakery
"All That" definitely lived up to its name and defined a huge part of '90s kids TV. Now, fans are rejoicing decades years later, because the cast just had a super awesome reunion on MTV's [...]
Schneider's Bakery
Valentine's Day is right around the corner! While you're busy getting a sugar high from indulging in various heart-shaped candies, we'll pull at your heartstrings with this list of our favorite couples from some of [...]
Schneider's Bakery
HAPPY NEW YEAR!!! Okay, well, we're already halfway through January, but that's the PERFECT time to check-in on how our New Year's resolutions are going! We checked in with a few cast members from Dan [...]