A memorable episode of Dan Schneider's "Game Shakers" depicted Double G, the superstar rapper played by Nickelodeon legend, Kel Mitchell, coming to terms (and trying to hide!) his disdain for babies. But rest assured, Mitchell fans! Our beloved Kel LOVES babies; has two kids, now in their teens, and we're excited to confirm that there's a third on the way!
That's right, Kel's wife Asia Lee is expecting. The two announced the good news in a goofy and romantic way — on Valentines Day (romantic) wearing Good Burger hats (goofy, but amazing).
In the Instagram post, Kel wrote: "We have a bun in the oven! Thank you @therealasialee for being the best wife to me the best friend to me and now the best mom to our blessed baby!! I love you so much!"
We got a huge kick out of the orange soda, strategically placed by Asia's baby bump, where (in theory) the new baby could get a kick out of it too.
The happy couple recently celebrated their fifth anniversary, and the new baby will be Asia Lee's first. Kel has two daughters from a previous partnership, Allure and Lyric, ages 15 and 17! We hope all three share Kel's unstoppable sense of humor. If the world is lucky, maybe the new baby will inherit mom's rapping skills, too!
Depending on which shows you watch, it's hard to imaging Kel as anything but an orange soda loving goofball or a superstar rapper, isn't it? Heck, we sometimes forget that Benji Flores, Triple G on "Game Shakers," isn't actually his son in real life! But, it makes sense that Kel makes a convincing dad on the show, considering he has some great experience in real life, and is about to get even more.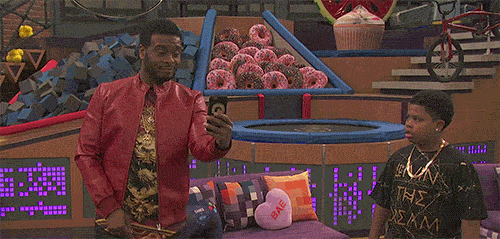 So if there's any doubt, Double G may be freaked out by babies, but Kel Mitchell almost certainly is not! Congrats and best of luck to this super talented pair!
"Game Shakers" is an American live-action sitcom, created by Dan Schneider, currently airing on Nickelodeon. The series stars Cree Cicchino and Madisyn Shipman as pre-teens that start a multimillion dollar gaming company and take on a rap superstar, played by Kel Mitchell, as their business partner. The series is produced by Dan Schneider, an American actor, TV and film actor, and producer.
There have been some pretty big names on basically every show Dan Schneider's worked on, from the all-star days of "All That" to the budding celebs on "Game Shakers" and "Henry Danger." But you might not have known that Dan has had some pretty big names helping him out behind the camera, as well! Here are a few people you've probably heard of who have taken the director's chair in Dan's productions.
Nathan Kress
You'll remember him as Freddie Benson from "iCarly," but in between acting gigs, Nathan Kress has done some directing as well. Impressed by his talents in his leading role beside Miranda Cosgrove, Dan later tapped Nathan to direct episodes of "Henry Danger" and "Game Shakers!" Although acting remains his first love, with starring roles in "Breaking Brooklyn" and "LA>Vegas" coming down the pipeline, we wouldn't be surprised to see Nathan take on some more directing work in the future.
Fred Savage
Today's Nickelodeon fans may not know him, but their parents just might: the inimitable Fred Savage charmed America (and stole Winnie Cooper's heart) as Kevin Arnold on "The Wonder Years." But not long after that show's run ended, Fred (brother of "Boy Meets World"'s Ben Savage) became one of Hollywood's hardest working TV directors, with over sixty different shows bringing him into the fold.
With his resume, it's no wonder that Dan chose to call on Fred to lend his talents to two different Schneider's Bakery productions. Not only was he at the helm for an episode of "Drake & Josh," but also two episodes of "Zoey 101!"
Drake Bell
You already knew he was a multitalented actor and musician, but it doesn't end there for Drake Bell. He pulled double duty on the "Drake & Josh" episode "The Really Big Shrimp: Part 1," both acting and directing in the epic series finale. Drake proved more than up to the task, performing great on both sides of the camera in the fan-favorite episode.
Want to learn more about behind-the-scenes shenanigans on the set of Dan Schneider's biggest hits? Check out DanSchneider.net or tweet @DanWarp.
Dan Schneider is an American actor, TV and film actor, and producer. Dan Schneider has devoted his life to behind-the-scenes production of hit shows on Nickelodeon including "All That," "The Amanda Show," "Kenan & Kel," "Drake & Josh," "Zoey 101," "iCarly," "Victorious," "Sam & Cat," "Henry Danger," and "Game Shakers."
Schneider's Bakery, Inc. is a television production company founded by Dan Schneider. Television shows produced under the Schneider's Bakery banner are noted for using the same stable of writers on all series, something that is atypical for scripted television series and especially sitcoms that are created by the same writer; staff writers working for most of Schneider's series include Andrew Hill Newman, George Doty IV and Jake Farrow among others.
Featured by Dan Schneider's Team
Schneider's Bakery
Valentine's Day is right around the corner! While you're busy getting a sugar high from indulging in various heart-shaped candies, we'll pull at your heartstrings with this list of our favorite couples from some of [...]
Schneider's Bakery
Ready to fall in love this Valentine's Day? Dan Schneider has some super sweet treats in store for the upcoming holiday. Fan's are gonna LOVE Nickelodeon's "Hart Attack" Weekend, with back-to-back V-Day themed episodes of [...]
Schneider's Bakery
HAPPY NEW YEAR!!! Okay, well, we're already halfway through January, but that's the PERFECT time to check-in on how our New Year's resolutions are going! We checked in with a few cast members from Dan [...]